Bille, Ejler
Ejler Bille was one of the 20th century's most significant Danish artists. Ejler Bille's colouristic talents are especially remarkable. Colour is applied to the canvas in small, modelled strokes of the brush giving the paintings a luminous, vibrating texture.
Ejler Bille uses colour as clear colour, as when the complementary colours red and green are juxtaposed as colours in their own right. But the colour also originates in the place and the atmosphere where the painting was painted: The dark earthen colours have their source in an autumn brown Denmark, and the clear, bright colours are the colours and atmospheres found in Bali, where Ejler Bille often went together with his wife, Agnete Therkildsen.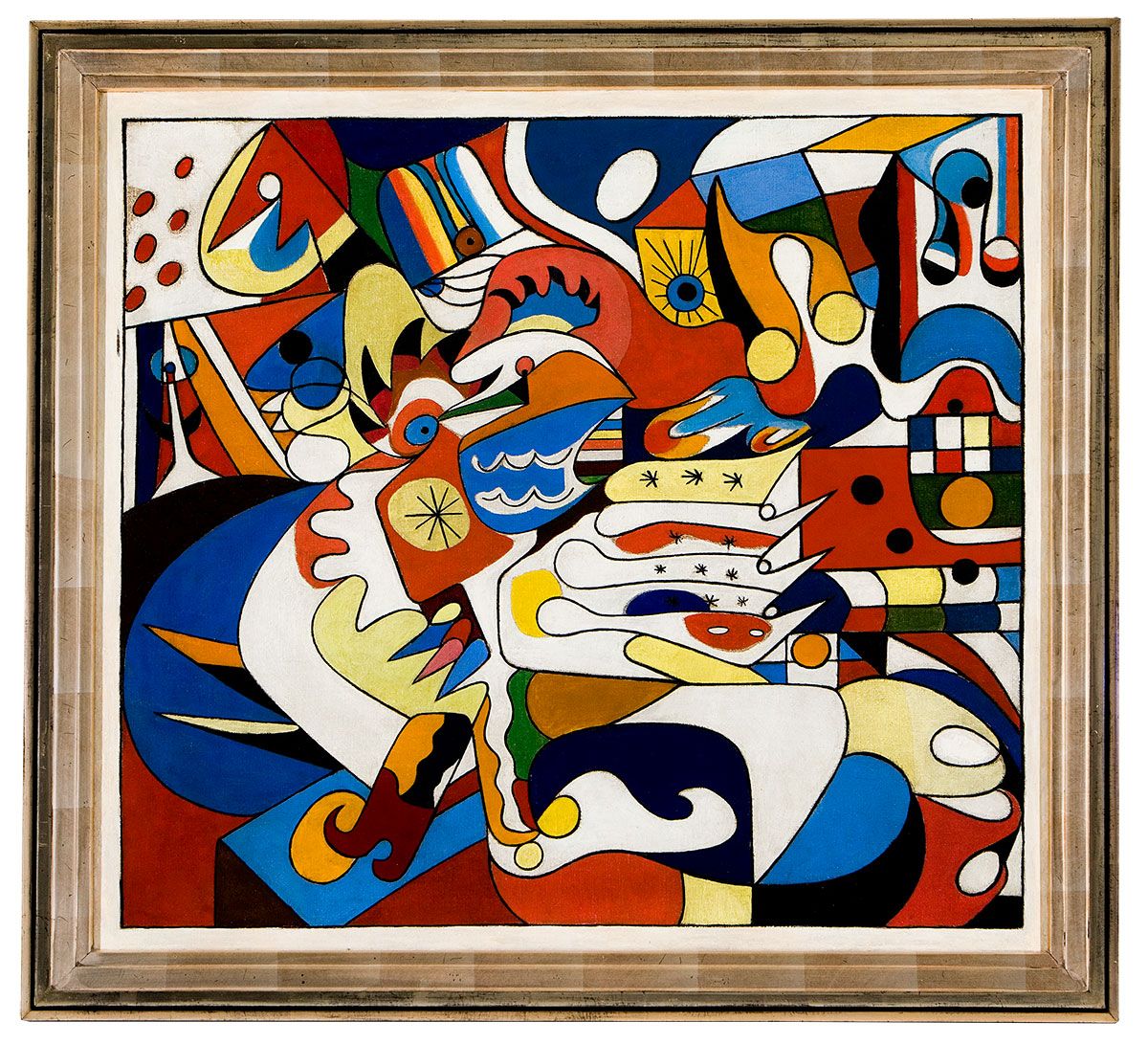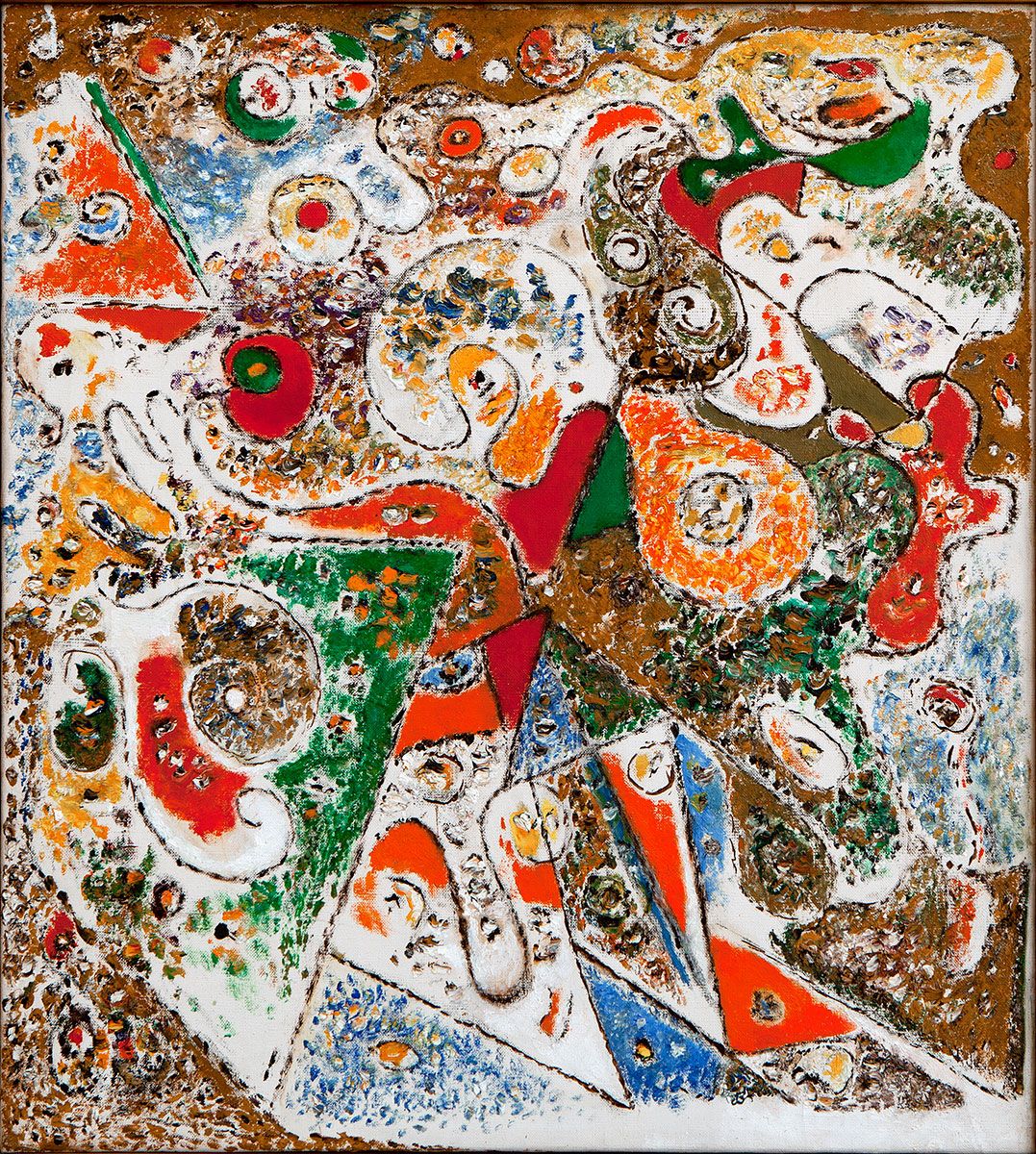 Education and Linien
The earliest, known works by Ejler Bille date back to his time in upper secondary school – a number of ceramic pots that he decorated with scratching and glazing. In 1930 he attended courses at Kunsthåndværkerskolen (Danish Design School) in Copenhagen, and here he met, among others, Richard Mortensen, Sonja Ferlov Mancoba and Gertrud Vasegaard. In 1932-33 Ejler Bille attended Kunstakademiets Billedhuggerskole (School of Sculpture of the Royal Danish Academy of Fine Arts).

Ejler Bille first made his mark as a sculptor. The earliest sculptures carved in Brazilian rosewood are stylised representations of animals and birds. Since the sculptures became abstract, surrealist forms made of plaster and later cast in bronze. In 1934 he was a founder member with the friends Vilhelm Bjerke Petersen and Richard Mortensen of the journal Linien and the exhibition of the same name – the first real avant-garde group in Denmark.
Artistic breakthrough in Paris
Ejler Bille painted besides working with sculpture. His paintings were abstract-constructive pictures inspired by Bauhaus and Kandinsky. During a stay in Paris in 1938-39 he experienced, however, an artistic breakthrough as a painter, which became a decisive turning point for him. Since then painting became his primary medium. The expression is abstract-expressive and the ornament the principal compositional element. Lines, circles and spirals or fragments of bird or animal shapes constitute, when it is not a mask painting, a sort of basic elements in his figurative language.
Høst-udstillingen, CoBra and Martsudstillingen
In the 1940s Ejler Bille was first a member of the artists' group Høst-udstillingen and later the Cobra-movement, and he participated in the great Cobra exhibition in Amsterdam (1949). By then he felt opposed to the strongly experimenting art of that time and sought something more tradition-bound. Together with Erik Thommesen he established in 1951 the group Martsudstillingen, which would be his base for three decades. From then on Ejler Bille's figurative language acquired a quality of serenity.
Ejler Bille & Agnete Therkildsens balinese collection
Ejler Bille was also an active poet and debater. On his travels to Bali, he collected Balinese painting and sculpture – a collection he created together with his wife, the painter Agnete Therkildsen. The artist couple had been visiting Bali since 1970, and their private collections were transferred to the museum on an ongoing basis via letters of donation in 1973, 1977 and 1981.
If I have been [in a place] long enough, such as the many times I've been in Bali, [...] it is as though you have to find the colours of the palette. I don't go looking for folk costumes. I want to see how the colours show up – like a light that you move in, that you bathe in. And then they turn up in your palette.

Ejler Bille, 1992