Weiner, Lawrence
Weiner's versatile practice encompasses performance, painting, film, artist books, sound, posters, sculpture and wall installations. He has been particularly noted for his artistic use of language and typography, which, in a radical and extremely stylish artistic practice, are transformed into statement images and textual fragments.
Weiner views language as a sculptural medium – as object, structure and image-creating material, all in one. In his works, he typically expresses physical conditions, in which an action is described and thereby constituted through the statement itself.
For Weiner, it is often a question of highlighting the specific characteristics of an object and how the work of art can potentially be materialised. In other words, these are works in which the expression and content interact in a sophisticated manner, and where the viewer's personal references and associations become part of the work's communication and action.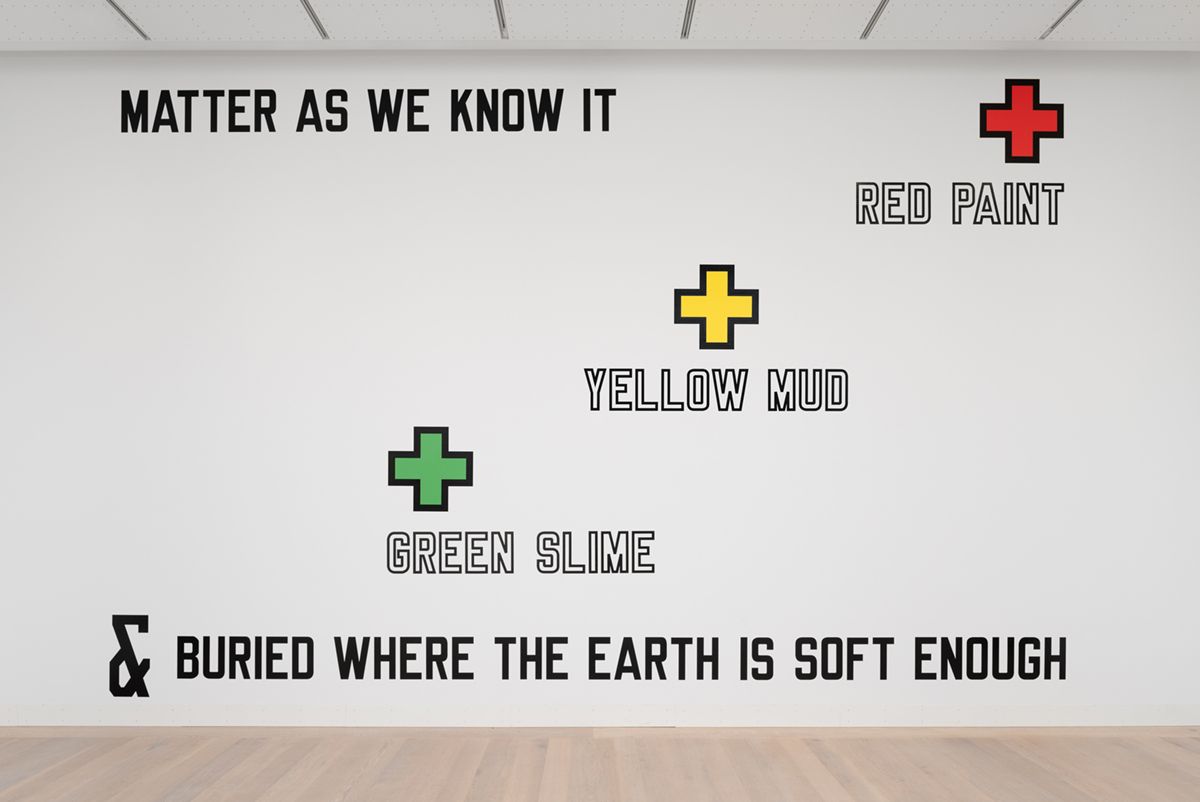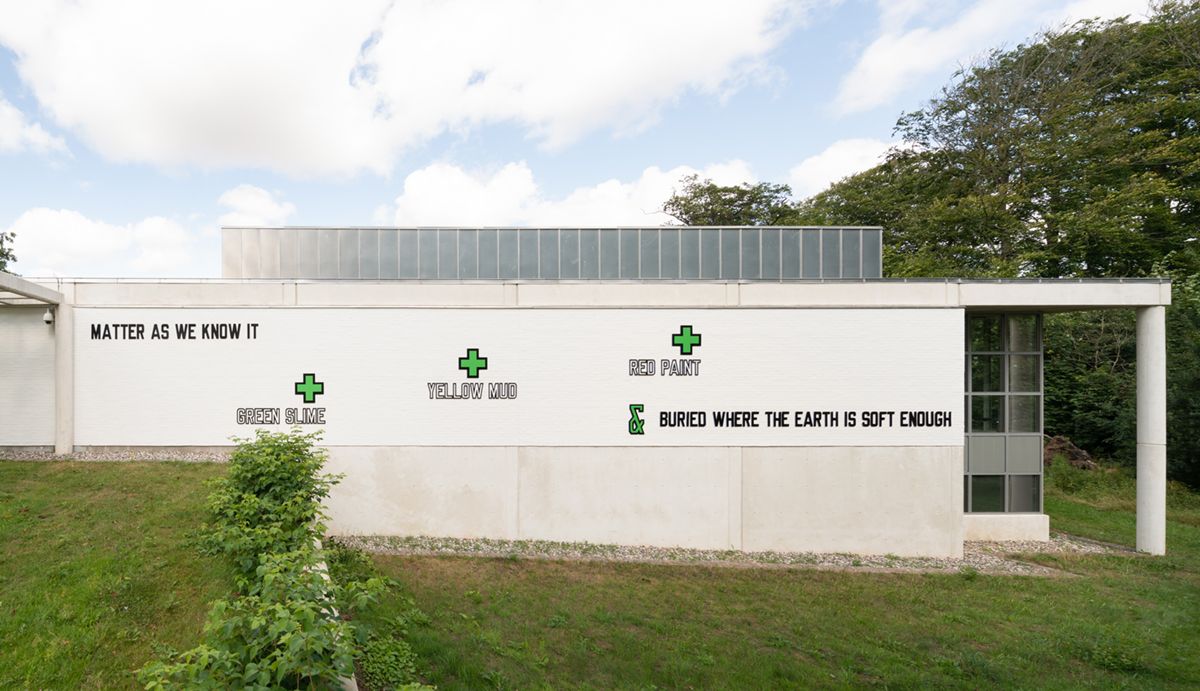 One of the most important originators of conceptual art
Lawrence Weiner (b. 1942) was born and raised in the Bronx, New York, USA, and currently lives and works in New York and Amsterdam. The artist's first presentation took place in 1960 in Mill Valley, California, where the works consisted of craters created by explosions. Since then, Weiner has participated in and been responsible for a large number of epoch-making exhibitions, and today he is considered to be one of the most important originators of conceptual art.
The dematerialisation of the artwork
Lawrence Weiner's work stems from the artistic breakthroughs of the 1960s, when avant-garde movements such as Minimalism, Fluxus and Conceptual Art gave rise to a new understanding of the purpose of visual art. At the time, there was talk of the "dematerialisation" of the artwork. This was to signal that the traditional problems of colour and form in the art object were being subjected to a more comprehensive examination of its conceptual content. In general, a focus emerged on the mechanisms of significance formation, i.e. the link between visual experiences and exchanges of meaning. Weiner was a central figure in this epoch-making reorientation, and he has for more than six decades been creating works of continuing relevance, on his own terms.
Art works all over the world
Weiner is represented in numerous leading art museums around the world, and in Denmark a number of prominent art institutions also own works by the artist, including the National Gallery of Denmark, ARKEN, Louisiana and Holstebro Kunstmuseum.
Weiner held his first exhibition in Denmark in 1974, at Tranegården in Gentofte (now Tranen). In 1983, and again in 1987, he exhibited together with Albert Mertz at Nordjyllands Kunstmuseum (now KUNSTEN - Museum of Modern Art Aalborg). In 1995 he was shown for the first time at Holstebro Kunstmuseum in an exhibition that entered into dialogue with the museum's African collection (Heart of Darkness), and recently he has exhibited with Per Kirkeby (1938-2018) at Galleri Susanne Ottesen (2016) and again at Holstebro Kunstmuseum in 2021 with the exhibition CLOSE TO A RAINBOW.
Public art works in the town and in the museum garden - MATTER AS WE KNOW IT
Permanent public artworks by Lawrence Weiner in Denmark can be found in Ballerup and Holstebro. Including the work MATTER AS WE KNOW IT (1995), which can be experienced in the museum garden.
Thanks to a very generous donation from the New Carlsberg Foundation, the museum has also acquired a monumental wall installation by Lawrence Weiner, in the form of the work MATTER AS WE KNOW IT + RED PAINT + YELLOW MUD + GREEN SLIME & BURIED WHERE THE EARTH IS SOFT ENOUGH (1995). This evocative work was originally created for the artist's first exhibition at Holstebro Kunstmuseum (Heart of Darkness, 1995) and was presented in relation to the exhibition CLOSE TO A RAINBOW (2021). The acquisition represents a significant strengthening of the museum's permanent collection, and Weiner has adapted the work so that it now also adorns the facades facing the museums' sculpture garden.

The work thus also relates to Weiner's public installation at Holstebro Town Hall. In 1991, the work was donated to Holstebro Municipality by the Danish Arts Foundation to mark the 25th anniversary of the inauguration of Holstebro's artistic landmark, the bronze sculpture Woman With Chariot (1942) by Alberto Giacometti (1901-66). This was also made possible by support from the New Carlsberg Foundation. In this way, MATTER AS WE KNOW IT adds to the most important arthistorical landmarks in the town's cultural profile.
Weiner's work can be characterized by a welcoming gesture which in fundamental ways addresses the rationales we each use to understand objective reality, geography, history, the phenomena of time and space and, not least, the social function of art. There is something existential going on everywhere, which is why the works often deal with our possibilities of finding our way in the world.